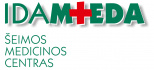 Idameda, šeimos medicinos centras, UAB
Girulių g. 5, 12124 Vilnius
(+370) 68657492
www.idameda.eu
Work hours
I, II 8.00-19.00, III 8.00-14.00, IV 8.00-19.00, V 8.00-14.00, VI 9.00-14.00
Director
Dalia Bučinskaitė
Akušerė-ginekologė gyd. Inesa Žeimė (8 686) 57492
Ausų-nosies-gerklės gydytojos:
Dalia Bučinskaitė (8 686) 57492
Šeimos gydytojos: Violeta Misiūnienė (8 686) 57492
Jūratė Rasinskienė (8 686) 57492
Bendrosios praktikos gydytoja Vytautė Veličkienė (8 686) 57492
Legal information
Bank account
Lt85 4010 0495 0046 7912
Responses
2014.08.08
BEATA
DEKOJU D. BUCINSKAITEI TAI JI NUSTATE KAD MANO 2 METU MERGAITEI ALERGIJA , OKITI DAKTARAI KIEK TIK LANKEMES SAKE SLOGA SLOGA TAI KIEK VAISTU PRIPURKSTA BUVO BE REIKALO , SIAIP TIK GERIAUSI ATSILIEPIMA APIE SIA GYDYTOJA
2014.06.03
arunas
super gydytoja dalia bucinskaite, sinusito kaip nebuta
2013.07.26
lina
labai nuostabi gydytoja laura lukosiute, kuri atliko cezario operacija, esu dekinga.
2012.09.03
lina
Labai gera, rupestinga gydytoja, ji puikiai atliko cezario operacija ;)
2011.09.21
Rita
Pritariu visom keturiom :) super gydytoja, padejo isspresti man mano problemas, o dabar priziuri mano auganti pilvuka :) labai smagi ir nuosirdi gydytoja
2011.05.17
Ineta
Malonu ir gera cia lankytis, o gyd. Laura Lukošiūtė yra nuostabi!!! :)
Visitor statistics
Duomenų atnaujinimas
Search words
House call doctor
,
family doctor
,
pediatrician
,
vaccination
,
vaccination
,
travel vaccinations
,
medical certificates
,
diagnostics, health assessment, diagnosis of communicable diseases, laboratory tests, general blood test, biochemical blood tests, therapeutist, pediatrician, obstetricians, pregnancy care, pregnancy determination, abdominal echoscopy, transvaginal echoscopy, contraception, sexually transmitted diseases, spiral insertion, ovarian cysts, pain, thrush, skin diseases, cytological examination, myomas, gynaecologists, ears, nose, throat specialist, hoarseness, vocal cord nodules, audiogram, tympanogram, ear noise, common cold, allergic rhinitis, sinusitis, stuffy ears, allergy, allergens, cough, bronchitis, pneumonia, sets of airborne allergens, sets of food products, skin-prick samples, spinal deformities, flatfoot/flat feet, echoscopy specialist, ORL, otorhinolaryngologist, dermatologist, dermatovenereologist, warts, papilomas, skin rashes, allergic rash, blood diseases, anaemia, anaemias, hepatitides, intravenous drip infusions, intravenous medications, intramuscular medications, changes of wound dressings, ERGO life insurance, SEB life insurance, PZU life insurance, BTA life insurance, sleep disorders, skin problems, mastopathy, headache, backache/back pain, nausea, dizziness, migraine, microbiological cultures, coprological examination, faecal test, diarrhoea, tumor markers/cancer markers, addictions, state-of-the-art allergy diagnosis, private clinic, treatment programme, modern medicine, treatment of diseases, primary health care centre, internal diseases, fungal infections, chlamydia, ureaplasmas, mycoplasma, trichomonis, gardnerella, cancer, cancerous diseases, vaginosis, enlarged lymph nodes, human papillomavirus, AIDS test, syphilis, HIV, blood group/type, nitrogen therapy, throat cryotherapy, lung diseases, circulatory disorders, wax plug, fertility, diabetes, hidden bleeding, heart diseases, smear, peritonsillar abscess, Pap smear test, podagra, healthy nutrition/healthy diet, obesity, diarrhoea, atopic dermatitis, eczema, contact dermatitis, warts, papilomas, fetal tone, grippe, urine tests, urine culture, faecal test, notability of melanoma, culture of the sputum, otorhinolaryngologist Dalia Bučinskaitė
more...
Affiliates
Show map
Idameda, šeimos medicinos centras, UAB
Girulių g. 5, 12124 Vilnius, phone: (+370) 68657492
Idameda, odontologo paslaugos, UAB
Subačiaus g. 15/ Strazdelio g. 2-52 (Senamiestis), 01300 Vilnius, phone: (+370) 52611207
Photos